What a great day at The Iron Stronghold, on the 5th of August, alongside PTC Perth and Burley Strength, we saw 12 strong girls take to the platform and give it their all on a maximum Squat, Bench Press, and Deadlift! The day saw not only a rise of the bar to glorious heights but also a glorious donation to the Women's resource centre in Bega. We managed to raise $800 that will go towards the centre for helping Women in need in the local area.
The great thing about powerlifting is that it doesn't matter who you are or how you look. It doesn't care if you think the Earth is flat ( The evidence is quite substantial) and it doesn't care about what deity you believe in. ( I'm partial to Odin's teachings) It doesn't care about who or what you love ( I love lamp?). All that matters is the effort you put into the bar, the effort you put into the training leading up to the day, the passion you put into executing your lifts flawlessly on the day and the courage it takes when taking a risk to get the bisque!
To start our day we had the young Barbella take to the stage yet again! With great consistency with her training leading into the competition, she shined bright like a star. Hitting improvements on all her lifts she finished the day with a 35kg Squat, a 21.5kg bench press, and a 55kg deadlift! Bella has been training with us for nearly a year now and the slow and steady improvements are paying off! Great lifting and a solid effort Bella!
---
Bella after a hard day hittin weights!
---
Next up the star-in-the-making Jaz Richards Richardson! Another of our little legionnaires, at 12 years old she decimated her nerves in a mighty clash of steel and was victorious in her first ever powerlifting competition! Jaz started with our little legionnaire's classes. When she first started she struggled hard to do a simple hip hinge and the squat was an alien movement to her. As Jaz is an athlete, competing in shotput and discus, learning these foundational movements is of paramount importance. Her consistent training is all paying off though as her technique now is looking great! Watch this space as Jaz will put up numbers that will be a sight to behold! 40kg Squat, 32.5kg and a huge 70kg deadlift! Awesome improvements since Jaz first came in. Great lifting Jaz!
---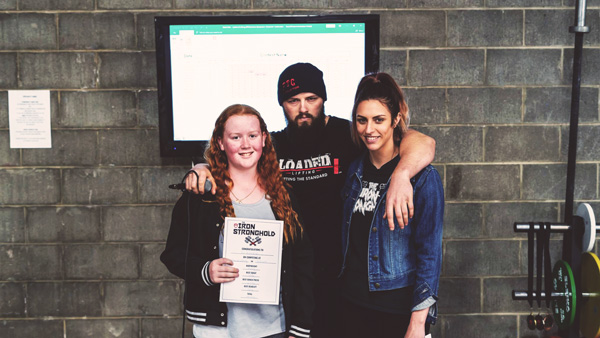 Jaz after destroying some weights. 
---
Following Jaz, we had Keely Coleman, a bright, energetic, crowd favourite, representing team Seaside she flew onto the stage and executed her lifts with great finesse and agility! 62.5kg Squat, 40kg Bench and an 82.5kg Deadlift! Coming from a Crossfit bakground Keely is no stranger to hard work and knows her way around a barbell! A passionate determined disciplined student of training, she applied herself diligently to the training leading into the comp and it paid off, going 9 for 9 at her first competition! Great work Keely!
---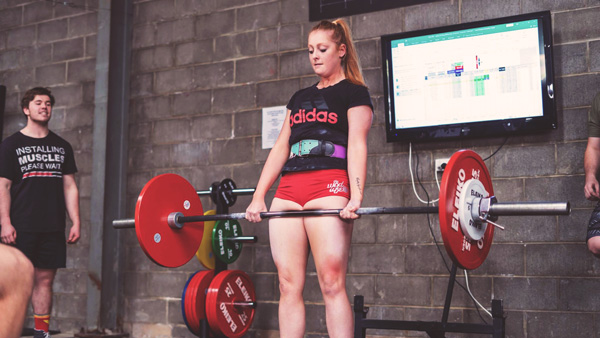 Keely? More like, Swoley, amirite?
---
Next, we had Jess Lyons! After catching the Powerlifting bug off her husband Dan who competed at our last comp, she dove headfirst into training for the Ladies of Lifting. She came in for a technique session and I can definitely say she paid attention, she nailed her lifts and her technique was fantastic! She finished the day with a 70kg Squat, 50kg Bench and a 90kg Deadlift! What an effort!! Great lifting Jess and hope to see you at the next one!
---
Jess, after hitting some epic lifts, wearing her snug pink jumper! 😉
---
Next, straight out of Merimbula Health and Fitness we had the superstar Hannah Hawkes, striking an impressive figure upon the platform she put her gains to good use in her first powerlifting competition and won more than just some personal bests, she smashed her fears and stood proudly upon the platform, ending with a 45kg Squat, a 35kg Bench and an 82.5kg Deadlift. With only a few weeks worth of practising her lifts, she did fantastically, lots of potentials so watch this space! Hopefully the first competition of a long and successful lifting career!
---
Hannah the Banana after destroying some personal bests!
---
Ash Gordon, representing team Seaside came in strong on the day in her first powerlifting competition! A solid program and flawless execution gave her a boost. Truly an effort to behold, she hit an 80kg Squat, a 50kg bench, and an epic 100kg deadlift! Ash is no stranger to training and now that she's had a go at her first powerlifting competition she's no stranger to PB's and Powerlifting! With the attention to detail of a seasoned professional, Ash hit her training hard and came away with a very total! Awesome lifting Ash!
---
Ash smashing and bashing a 100kg deadlift!
---
Next up, swinging hard, Atieh! First competition – check, nailed every lift – check, hardcore – check. Nine for nine and lifting divine, she managed an 85kg Squat, 50kg bench and a 100kg Deadlift. Atieh has been training with us on and off now for a while she trains to also be a Dr, her consistent training leading into the comp paid off, which was so awesome to see. She's not one to shy away from a challenge, Atieh's first comp will be one to remember, a super strong outcome for Atieh!!
---
Atieh, Lisa and I. #dabonthehaters
---
Another first-time competitor, Bhud the Good. Ultimate Bad-ass, chewing bubble-gum and kicking some barbell ass. She hit a smoothy groovy 70kg Squat, 47.5kg Bench and a 110kg Deadlift. Bhud has been training with us now for a couple of months and after some hesitation, she decided to jump in and have a lift with the rest of the gals. She trains hard and the results are showing, she's lost weight off her body and added weight to all her lifts. Absolute weapon and a great first showing. Great work Bhud!
---
Bhud literally annihilating a Deadlift, it didn't stand a chance.
---
Knocking out the competition, Katrina, AKA KO, AKA the big weights lifter, AKA the instigator of gravity decimation. Trine is the definition of a machine, she does Powerlifting, Spartan Races, trains 100 times a week, runs her own training business, spreads the good word of strength and last weekend she hit the platform hard with an 82.5kg Squat, a 50kg Bench and a 112.5kg Deadlift. Nailing her lifts on the day and securing 3rd place! What an effort! Great work KO, keep up the hard training!
---
Katrina vs 112.5kg. 3rd round knockout.
---
Super-Mum Belinda, had the bar set super high by her daughter in arms, Jaz, but she managed to hold on and set a great example for Jaz with a super strong 80kg Squat, 45kg Bench and 115kg Deadlift! Belinda started off as a spectator, watching over her young one, Jaz while she learnt the ropes. After a few sessions, she decided that she should join in! Super glad she did because Belinda has been training hard and reaping the rewards!  Nice lifting Belinda! Looking forward to seeing you improve on all your lifts even more!
---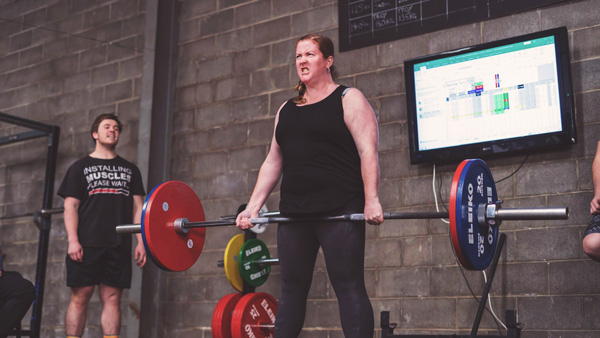 Belinda, aka " Gravity's demise" 
---
Record holder, Kate the Tighe-Fighter, 2nd place. flawless day. Wouldn't expect anything less from Kate the gun! 87.5kg Squat, 52.5kg Bench and a 115kg Deadlift! After some niggling Knee pain, we left a few kg's on the bar for her Squats and saved a bit of energy for her monstrous deadlift. Kate has taken to training like a Daniel takes to delicious ham sandwiches. She's consistent, careful with her diet, trains hard, follows her program and she brings a great energy to the gym. When Kate first started she couldn't even do a bodyweight squat without drastic hip twist, and now she's nearly at a 100kg squat without a belt with only 6 or so months of training and closing in on a double bodyweight deadlift. Great day and PB's on all lifts! Awesome work Kate!
---
Subscribe to Kate's Instagram profile, @Kate_Tighe-Fighter, she's aiming for 1 million followers!
---
Finally our winner, Loureen the barbarian warrior queen! What a phenomenal day Loureen had on the platform, showing just how strong she is and setting a great example for all the newcomers! a 130kg Squat, 90kg bench and 172.5kg Deadlift! Loureen is a great example of what strength training can do for women and is a fantastic representative of the sport. It's so comforting to me to be able to say without reserve that she's a great role model for the girls that train here and that she is a great ambassador for the sport. First place and a new total PB. Great lifting Loureen!
---
Beauty and the beasts.
---
It was awesome to see so many spectators at the gym supporting the lifters and was great to see so many eager lifters having a go! Powerlifting truly is a sport for anyone. We're looking forward to seeing everyone improve further on their lifts!
On behalf of everyone, thanks to Tony Harrington for the photos!
Thanks to all our helpers, judges, spotters and loaders, Connor, Cameron, Will, Jess, Blake, Victor, Aaron, Jodie and everyone who helped set-up and pack-up!
Thanks to everyone who came out to watch!
If you live in Merimbula, Bega, Pambula or Eden and are looking for a gym to train or want to give Powerlifting or strength training a go, be sure to get in touch!